READY. SET. GO. How can you beat a colorful race car party filled with racing flags, racing checks, hotrods, and NASCAR heroes galore? Rev up your engines and let Party Idea Pros help make planning your hotrod party simple and fun — an exhilarating party theme for NASCAR and car racing fans of all ages!
New!
Cars 2 Party Ideas, Planning Tips, and Supplies
Race Car Party Invitations and Stamps
Choosing your invitation is the equivalent of the title of a paper … it sets the tone for the entire party, even a casual party!
…
Car Racing – Party Invitations | Racer Invitation| Birthday Party Invitations – Toy Cars |  Pedal to the Metal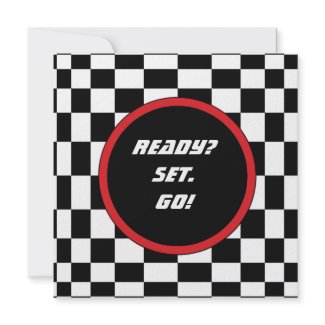 Race Cars – Party Invitations | Retro Speedway – Party Invitations | Formula 1 Race Cars Boys Theme Birthday Invitation | Racing Checkers Party |
Race Day Invitation | Race Fans Birthday | Race Car Birthday Invitation | Do What You Love Race Car Invitations | More Race Car Invitations
Race Car Party Table Linens
You have many options to create a fun and sporty NASCAR look. Your choice will ultimately come down to a combination of what your room looks like and how daring you feel. Party Idea Pros first choice is to create a look using Black and White striped or checked tablecloths with fun accent colors. It works great with the Arte Felguerez Formula 1 car sculptures — just the right combination of classy and fun. Rent white or black folding chairs.
For a safer look, either choose a single color or any combination of the above colors. Choose either a matching napkin or a black & white stripe napkin. Use a matching lamour chair ties on simple black or white folding chairs or coordinating chair covers all with black chair ties. If you want to save some money, most venues will supply complimentary white or cream linens; stick with white unless you prefer a more vintage look.
Likewise, if you are hosting an auto racing theme party at your house just about any color linen you have will be fine, in fact, place mats will also work great, and to tell you the truth, individual sheets of scrap booking paper work great and are adorable. Choose any solid colored paper. If you are feeling creative and have lots of time, you can even create a layout highlighting your guest of honor. Alternatively, use your place mats as place cards by creating a page for each of your guests. Laminate it and tie with personalized ribbon for a complete favor anyone can enjoy.
Hotrod and NASCAR Race Car Party Centerpieces
Arrange floral centerpieces in NASCAR theme mugs!  Below are a few examples of possible looks followed by a few mug options.
NASCAR Mugs | THE ALL AMERICAN HOTROD | Ferrari F1 paintings Stein
 Baby Shower Centerpiece Idea – NASCAR Hooded Towel Cake | Race Car Diaper Cake
Now Make It Move
These centerpieces are just too darn cute to stay still. Place them on this revolving base to add movement and pizzazz to your table.
Rotating Display Base with Mirror Top and Mirrored Mosaic Sides | Large Rotating Display Base Has Mirror Top And Will Hold Up To 44 Lbs.
These Mylar racing theme centerpieces are great for casual, festive affairs. Add some balloons to pump up the volume.
Racing Flags Centerpiece | Race Cars Centerpiece
Race Cars Candles | Hot Wheels Cake Candles | Ferrari glass candle set
Race Car Party Napkin Rings and Napkin Ties
There are lots of creative ways to adorn your napkins, some inexpensive and some not so. The least expensive option is to simply fold your napkin beautifully and place a NASCAR trinket in the pocket or try sliding your napkins into a auto hose or worm gear clamp.
Race Car Pencil |  Pearl White and Black Deco Check Napkin Rings |  Auto Clamps
 | Car Bandz

DIY Salt and Pepper Shakers
We saw these in an antique store and just had to have them. Hot glue miniature salt and pepper shakers to hot wheels. Create a playful atmosphere by encouraging your guests to roll the salt and pepper to one another.
Hot Wheels Car Pack | Tablecraft Products Mini Salt & Pepper Shakers
NASCAR Party Place Card Ideas
What a fun way to set a party mood. Your guests will smile the moment they set eyes on these nostalgic pez dispensers. Use one for each couple and one for each single. Use a sharpie or liquid gold metallic paint marker to write your guests' names directly on the front of the pez dispenser. Write the table number on the back. If seating is not assigned, consider putting one at each place setting or scattering a few on the table along with the chocolate cars.
NASCAR Pez Collection | Pez Nascar Helmets Assorted | M&M Pullback NASCAR Car
Just write your guest's name on one leg and the table number on the other.
Checkered Flag/Racing Tire Photo/Balloon Holder | Ferrari silver place cards set
Race Car Party Favors
Add some fun to your tables. Party Idea Pros love these NASCAR antenna balls. Consider using them as party favors/table decor or as place cards. Add a colored straw topped off with a NASCAR Antenna Topper to each guest's water glass. Write your guest of honor's name and party date on the bottom of the antenna ball. (Check site often for sale prices)
NASCAR Antenna Balls
 | Colored Straws
Expensive but fun! Primates with a need for speed! They're revved up and ready to go! Each Hot Rod Monkey Bender includes a posable magnetic primate with racing helmet and detachable steering wheel, all packed with a fast-paced tin car! When you're done racing, driver and steering wheel go inside the tin car—just add the plug to safely store.
Hot Rod Monkey Benders
 | Classic Balloon Racers
Pull Back Racer Cars | Rubber Ducky Race Car Birthday Party Favors
Racing Flag Canvas Tote Bag | Racing Car Pens
Tire Soaps | Race Car Bottle Cap Ball Chain Necklace (available in red, green, blue & yellow)
Race Car Party Supplies
Race Car Birthday Party – Complete Package >> This package includes everything from tableware to decor to party favors to games & activities!  The only things missing are the invitations & the food 🙂
Black And White Checkered Car Racing Birthday Party Supplies
Disney Cars Birthday Party Supplies
36′ Giant Tire Tube 59252Ep Inflatable Toys | Construction Cone Cup
New!
Tire Bowl | Stainless Steel Wrenchware | Piston Mug
Race Car Party Supplies & Decor >> Printables
    
Race Car Red & Black Party Package Printable | Red White & Blue Race Car Party Printable Collection
Bright Race Car Party Collection | Race Car Birthday Party Printable Package
Race Car Food and Drink
Most of these car racing theme candies can also be used as place cards, party favors, or even scattered on your tables as table decor.
Race Cars Sugar Cubes | Gummy Race Cars | Checkered Flag Party Mints
Race Car Chocolate Molds | Race Car Set of Cookie Cutters
(Not just for cookies — try making race car shaped finger sandwiches!)
Nascar Need the Speed Cake Topper | Race Car Cupcake Kits | Checkered Racing Flag Cupcake Kit
DIY Cake Ideas and Inspiration
Race Car Party Fun & Entertainment
Race Car Sets
Consider setting up various racing sets throughout your space. Let guests have fun challenging one another. Choose from a variety of brands and styles
Race Car Pinatas
Race Car Piñata | Racing Car Piñata | Stock Car Piñata
Automobile Theme Video Games
Attach your favorite video game platform to a large screen TV. Your guests will be entertained for hours.
The Little Extras for your Car Racing Theme Party
Sometimes Party Idea Pros just comes across an idea or a site which might provide that little extra something you are searching for …
Checkered glag Hat | Red Diecast Race Car Cufflinks w/Gift Box | Black & Red Car Truck Racing Steering Wheel Cufflinks w/Gift Box
More Racing Checks …
I know this is crazy, but oh so worth it for the surprise factor. Fill the restroom stalls with rolls of this theme paper.
Check Toilet Paper Rolls | Checkered Trash Can Cover
Out of Town Guests
Party Welcome Gifts
Occasionally, great friends and loving relatives will fly or drive long distances to be able to celebrate with you. Welcome them in style with these lovely gifts. Be sure to include 2 water bottles.
Racing Flag Canvas Tote Bag
In addition to the water bottles fill with a breakfast snack, salty snack, something sweet such as a few chocolate race cars, and maybe even a checkered hacky sack ball just for giggles.
Best of NASCAR Books
NASCAR Books
Looking for just Cars 2 party goods? Cars 2 Party Ideas, Planning Tips, and Supplies
Party Hearty!