…
CanvasPop Review –

Turn Instagram Photos into Canvas Art
I recently received an invitation  offering PartyIdeaPros.com a $40.00 credit to try out CanvasPop, a service that prints photos onto canvas without the need for additional framing.   To me, it was a no brainer especially since as a compensated affiliate I always like to review the products of our partners before recommending them!  Plus, photo canvas art is one of the latest and greatest decorator trends – my friend Judy just filled 2 entire walls with stunning photo art memories.
Coincidentally, within a few minutes of receiving the offer, my oldest son texted me an iPhone photo of a giant birthday card his high school math classes had made for him on his classroom white board.  What a perfect test — a mediocre quality photo of a very touching tribute.  All I could think about was how lovely it would be to memorialize this very special gift from his students and believed it would make for a thoughtful (belated) birthday present but I had no idea how to bring my idea to fruition.
In stepped CanvasPop and Instagram.  Just the day before I had downloaded the Instagram app to my new iPhone.  So I saved the text photo to my iPhone camera and then played with it a bit in Instagram.  Here is the original photo and my Instagram version of the same photo.
Now that I look at them side by side I may have chosen wrong but c'est la vie — right now I like the original photo better but at the time I wanted the words to be somewhat legible on the canvas so I went with the darker Instagram version.  The third photo shows the Canvas Pop canvas hanging on the wall.  Although my photo of the Canvas Pop is a bit blurry, it actually is quite clear and some of the messages are readable!
As you can see there is a nice white border setting off the Instagram photo.  Here are a series of photos showing my CanvasPop final product from various angles.
Now for a few details and a little background of why I chose to use Instagram rather than simply uploading a photo.  Truthfully, I ended up using the Instagram option for 2 reasons.  First, I wanted my canvas framed and my $40.00 credit using either the upload from my computer or the upload from Facebook options would only buy me a rolled, frameless canvas.  In contrast, when I clicked on the Instagram option, I immediately noticed that Canvas Pop was running a special so I could get a 12 x 12 framed print for just $39.95.  And secondly, with Instagram the entire process was simplified.  The only choice I needed to make was choosing my canvas size.
Within minutes of placing my order I received order confirmation. Just 6 days later I discovered my Canvas Pop waiting at my front door.  I plan on giving it to my son tomorrow morning after his Master's of Education graduation ceremony.  I hope he likes it!
In retrospect,  if I had any confidence in my photo and/or my own editing skills, I would have welcomed the many choices Canvas Pop offers and would have probably been willing to pay up to create the exact look I wanted. i also now realize that the original photo would probably have been quite readable even without the Instagram special effects.   Below is a visual of the options available when you upload photos to CanvasPop
1. Panel size and configuration

2. Frame Styles, Finishes, and Edging Options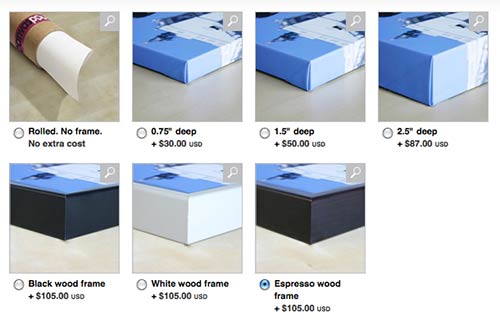 3.  Image Effects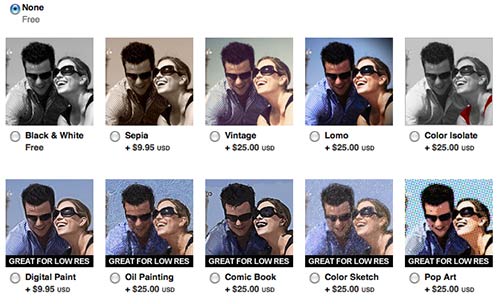 My Final Thoughts on My CanvasPop Experience
Would I use CanvasPop again?  ABSOLUTELY!  Ordering my CanvasPop could not have been easier.  I was able to create a lasting memory from a very mediocre photo taken on an iPhone.  Although I would probably recommend to others that they use a higher quality, more artistic photo, I am completely satisfied with my results.  This particular picture is more meaningful than it is art but I do believe that even though it will not grace the walls of a museum any time soon it will be cherished and enjoyed for many years to come!
Party Hearty!.