Graffiti Party – You're Tagged!
Create an urban edginess to your party — consider a graffiti theme.This theme is especially suited for Greek and college parties, sweet sixteen and teen parties, and Bar and Bat Mitzvah celebrations.
Graffiti Invitations and Postage
Graffiti Invitations | Graffiti Grad Invite | Birthday Graffiti 
Graffiti Postage
funky artistic murale postage stamp | Save the Date Graffiti Postage | Graffiti Heart Postage
At times, formal invitations seem unnecessary and even down right boring, especially in the context of a college party. Hand deliver white t-shirts (and if you want, white shorts or sweat pants ) to all your guests. Write all the essential party info on the shirt with multi-colored fabric markers. The day of your party, think about shooting t-shirts with sling shots (like they do at professional ballgames) into crowds around campus. As an aside, be sure to have lots of markers available at the party so everyone can leave their mark on everyone else.
Graffiti Party Decor
eHow contributing writer Allana Baroni has written a great ehow step by step on how to decorate for a Hip-Hop Graffiti Themed Party . Rather than re-invent the wheel, here are her suggestions:
Step One
Think Soho loft space. Get rid of excess furniture, breakables and stainables. Throw white sheets over your furniture, rest blank canvases on easels (raid toy stores for inexpensive ones), and lay drop cloths on the floor to catch any drips (art supply stores carry this kind of stuff).
Step Two
Space 2 step ladders about 6 feet apart and rest planks across the steps to create the bar. New tin paint cans from the hardware store make great ice buckets and containers for bar supplies.
Step Three
Line a wall of the party area with matte black paper, sold by the roll, for guests to tag up with chalk. Make sure the paper isn't glossy, because the chalk won't stick if it is.
Step Four
Attach big sheets of plain white paper or muslin (found at art stores) to another wall for the paint and markers.
Step Five
Throw up outlines of letters and images for your taggers to fill in. It will help them overcome their fear of creativeness.
Step Six
If your guests want to tag it and take it, bust out the old jeans, T-shirts, thrift store purses, and athletic shoes. Have glittery and puffy fabric paints, paint pens and markers available (found at craft supply stores).
Graffiti Materials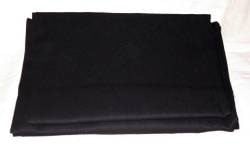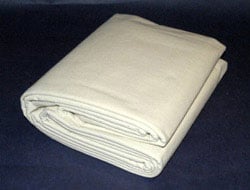 Rolls of Paper | |Black Drop Cloth | White Drop Cloth…
Multi-colored fabric markers | Letter Stencils | Mini Paint Can Favor
How to Draw Graffiti Style | The Art & Technique of Graffiti
Party Decor
Hip Hop Graffiti Signs | Graffiti Poster | Colorful Graffiti Art Poster | More Graffiti Decor & Props | More Hip Hop Decor & Supplies

Graffiti And Brick Wall Backdrop & Coordinating Porps & Banners |
Check out these photos from an upscale graffiti party for inspiration

The Graffiti Street of New York…Bar Mitzvah | Mindy Weiss Blog
Costumes & Apparel

These simple white t-shirts, shorts, and sweatpants are the perfect "costume" for both men and women at graffiti party! Of course part of the fun of a graffiti theme party is having other people "tag" your outfit.
White T-Shirts
 | White Sweatpants
 | White Shorts
 & White Boxers
Not into DIY? Try these graffiti inspired t-shirts, shoes, ties
Graffiti writer with spray can stencil | Graffitis story design | Rock Star Graffiti Tie
Tween Girl Graffiti Costume | Graffiti Leggings
 | Steve Madden Graffiti Heels
Kalencom Graffiti Traveler (Women's) – Graffiti | Traveler Diaper Bag in Graffiti | Athalon Luggage 21 Inch Hybrid Travelers Bag | Black Graffiti Neoprene Netbook Sleeve Case (also available in pink and green)
OMG!  Look what we found — ThugFashion.com!  And of course, even the images on the site are blingy! And so much more at just about any price point!!!.
Just for Fun Graffiti Party
Paint Brush Shaped Lollipops | Hip Hop Graffiti Milk Chocolate Lollipops Personalized Milk Chocolate Lollipop 
Food & Drink!
Serve beer or colorful drinks.  Think Tequila Sunrise and Rainbow Sherbert Punch.
For food anything mixed together, the more colorful the better  —  snack mix (be sure to add m&ms), fruit salads, chunky vegetable salads (Horiatiki salad), spaghetti and meatballs, an everything pizza.
Be sure to visit Party Idea Pros Greek Events for more party planning ideas, themes and party supplies:
Party Hearty!