I lived it first hand — every bride's wedding photographer nightmare. My husband and I chose to get married outdoors with San Diego's beautiful marina as the backdrop to our special day. When the photographer arrived at our venue, rather than taking our individual and family portraits outdoors, he insisted that we move to a "studio" he had rigged up with an ugly rose colored drape as the backdrop. I tried to argue but was overruled and labeled a temperamental bride. So today, when we look at our wedding album, instead of the stunning views pictured below, I still cringe in dismay at the dreadful rose wedding photography backdrops marring my memories of an otherwise beautiful day.
  vs. 
So what is the point of this story? Thirty years later, I am still on a crusade to convince brides to think about their outdoor wedding photos very carefully and to talk abut the logistical details of their wedding photography backdrops with their photographer well before their wedding day so they don't repeat my mistakes. I especially recommend that together the bride and her photographer plan their outdoor wedding photographic backdrops at least a month in advance so that if, for whatever reason, the photographer needs to move a photo shoot indoors,  he will have an acceptable backdrop with him that captures the chosen outdoor environment.
As you know from previous posts, we have fallen in love with decorative ceiling tiles.  They are light weight, versatile and very affordable.  The truth is, with their unique dimensionality, beautiful design choices, and plethora of color options, decorative ceiling tiles make for great outdoor wedding photography backdrops.  The catch is that  although right on trend, very few photographers have heard of decorative ceiling tiles and how easy it is to build a photography backdrop using them. If your photographer will not or is unable to build your desired backdrop, do it for her!  We have teamed up with CeilingTileIdeas.com to feature this pictorial guide to creating great photography backgrounds sure to please today's discerning bride.
So back to my bayside wedding … it is indisputable that this 151 Blue or Sky Blue Sand Stone tile feels so much more like a seaside venue than the standard blue fabric backdrop. Plus, its vintage feel appeals to today's modern bride.
Wedding Photography Backdrops
These light weight decorative tiles are not only great for portrait photography, they work especially well to set off photos of all the little details brides obsess over and would like memorialized forever. Even without a marina or beach background, if tiles like these are used, the wedding album will still have a visual context. Well chosen decorative ceiling tiles will enhance, not detract from the subject of the photos. Flowers, place card holders, and even custom labeled wine bottles will be subtly associated with the beach without the hassle of sand and water ruining the photographer's valuable equipment.
Although it took hours of searching, I finally came across photos from a Vermont wedding planner that actually used tin ceiling tiles as a photography backdrop. The look is classy, classic, and is perfectly reflective of the couple's outdoor wedding.
To duplicate this look, use 0613 Tin Ceiling Tile – Classic – PINWHEEL. You can order it in Tin Plated Steel and paint it yourself or in White Coated Aluminum and then rough it up a bit. Or if you really want to make life easy, order the tile with a crackled white specialty finish. Other design options include 0612 Tin Ceiling Tile – Classic – FLOWER POWER, and 0607 Tin Ceiling Tile – Classic – DELICATE DAISIES
It might also be worth your time and your photographer's time to review these "How To" Videos giving step by step instruction on how to create stunning Photography Backdrops
A similar look, although a bit more weathered, can be created from 2408 Tin Ceiling Tile – Classic Baroque – again, order it in Tin Plated Steel and paint it yourself, in white coated aluminum and then rough it up a bit, or with a crackled white specialty finish.
Another option is create an outdoor photographic background in copper. These backdrops would be perfect for brides who prefer the great western outdoors to the east coast vintage style. Brides who want a wedding with upscale western cowboy decor or choose venues like this copper roofed pavillion will definitely want to consider using either any tile with a Copper Patina to fashion an outdoor ambiance without detracting from the subjects themselves. Additionally, if your photographer needs further convincing to invest in a new backdrop, it should not be too difficult to convince her that copper ceiling tile backdrops work great for everyday studio work, too.
Finally, my friend Milan sent me a picture exemplifying how the ceiling tiles can be used to create an outdoor look that can be used both everyday or for special events. Consider using 148 Copper Patina Faux Tin Ceiling Tile to build your outdoorsy wedding photography backdrops. You can pick up a garden bench fairly inexpensively on Amazon
If you happen to be getting married at a mountain cabin, wouldn't it be fun to use a wrought iron bench along with 0512 GWEN'S CABIN BACKSPLASH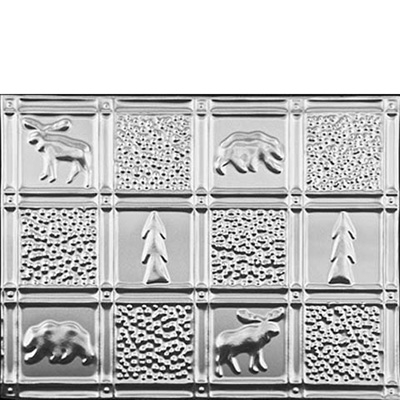 Create an outdoor photographic backdrop with a butterfly theme using 2410 Tin Ceiling Tile – Classic Butterfly Needlepoint and this fun Outdoor Garden Bench with Butterfly Back. The bench we have featured here has a citron finish but it is also available in brown, hydrangea, and red and there are lots more butterfly benches available. Again like most tin tiles this aluminum ceiling tile is available in many different colors.
One more idea — For an outdoor photographic background with a modern twist, use black or white ceiling tiles with a contrasting bench. You can always add a bit of silk Ivy Vine Garland if you still need more of a touch of the outdoors. Consider pairing 130 Black Faux Tin Ceiling Tile with a classic white bench or this lattice weave 606 Aluminum Ceiling Tile – Glossy Black & Glossy Silver with a highly stylized black gloss bench
For more information about creating photography backdrops using decorative ceiling tiles, do not hesitate to call Milan at DecorativeCeilingTiles.net. Milan is one of those rare, very special people — not only is he absolutely trustworthy, he likes taking calls, and he really knows his stuff!
Again, we want to thank our friends over at CeilingTileIdeas.com for their help sorting through the  Why, What, Where, and How's of this versatile product (decorative ceiling tiles).
Party Hearty!