Imagine sharing a lovely afternoon sipping tea and eating crumpets  with a room full of friends and family. A tea party isa fun and charming party theme for all ages.
A tea party is a perfect theme for birthday (children, teen, and adult), sweet sixteen, quinceanera, and Bat Mitzvah celebrations, school fundraisers, sorority soirees, Mothers Day, and bridal and baby showers.  Right now, we have showcased products for both adult and children's parties but hope to create new packages specifically for children's tea parties and quirky Alice in Wonderland tea parties soon.
Invitations and Stamps for Tea Parties
Choosing your invitation is the equivalent of the title of a paper … it sets the tone for the entire party, even a casual party!   Party Idea Pros' absolute favorite tea party invitation, even though it shows no teacup  is the Tea Garden invite offered by Tiny Prints however there are lots of great tea party theme invitations from which to choose.  Here are our favorites …

Tea Time – Party Invitations | Tea Cakes – Bridal Shower Invitations
Baby Tea – Baby Shower Invitations | Bridal Shower Invitation – Tea
Tea Time Bridal Shower Invitations | Teapography Party Children's Birthday Party Invitations
Time for Tea Shower Invitations | Teapot With Animals Children's Birthday Party Invitations
tHe QUeeN's TeA PaRTy Announcement | Vintage Party Invitations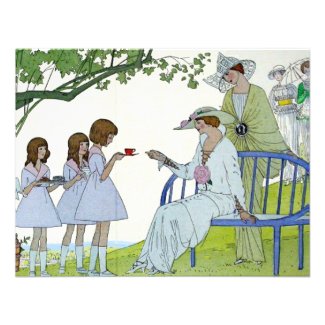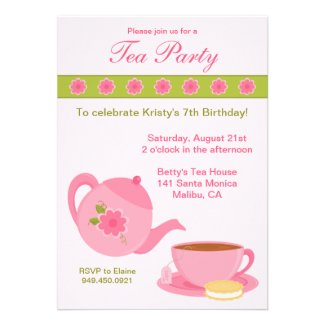 Vintage Tea Party | Tea Party Birthday Party Invitation
Alice in Wonderland Tea Party Invitations | Wonderland party invitation | Vintage Alice in Wonderland Tea Party Birthday Invitations | Alice in Wonderland Invitations
Printable Invitations
Elegant Return Address
The custom embosser is all about sophistication. Now you can easily add some elegance to everyday stationery or as an elegant alternative to having your return addresses printed on your party invitation envelopes. They also make wonderful gifts. You will be surprised at how often you use your new embosser.
Postage Stamps
Personalize your stamps by using one of the great zazzle tea party stamps. Please be sure to bring a complete invitation, including all inserts, to a local post office to determine exactly how much postage is required. If you decide not to customize, please do not mix stamps. It is better to add too much postage than a hodgepodge of mismatched stamps. You have spent so much time and money on every other detail, the difference in price is not worth giving a sloppy first impression.
Tea Time  | Tea party stamp | Teacup Postage | Tea Cups
Paper Goods for Tea Parties
      
Teapot Tableware Set | Girly Teacup Plates
Tea Party Centerpieces
Now Make Them Move
These centerpieces are just too darn cute to stay still. Place them on this revolving base to add movement and pizzazz to your table.
Large Rotating Display Base Has Mirror Top And Will Hold Up To 44 Lbs.
Add a few balloons to make the centerpiece more substantial!
Balloons for Tea Parties
More Centerpiece Ideas
Fun Tea Theme Table Decor
…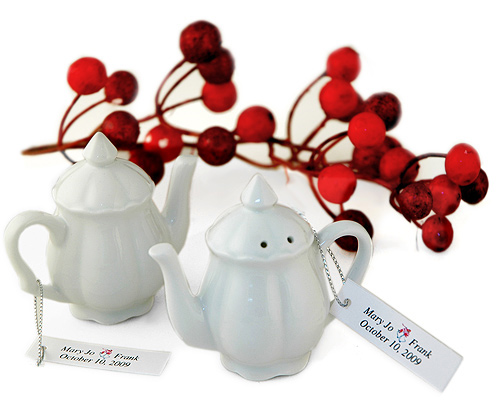 Porcelain Teapot Salt and Pepper Shaker
Teacup & Saucer Candles
Napkin Rings and Napkin Ties for Tea Parties
Party Idea Pros has found  a handful of  great napkin ring options, any of which will add that special touch to your table.  Prefer simplicity or just trying to cut costs? Place a single tea bag on top of each beautifully folded napkin.
Place Cards and Place Card Holders Holders for Tea Parties
Tea Cup Die Cut Tented Place Cards
Tea Party Favors
A tea party theme lends itself to so many favor options, Party Idea Proscould not choose just one best option, so here are a few choices we call the best of the best …  One more thought — Although the recommended place cards and napkin ties also serve as party favors, if you want to lavish gifts on your guests or prefer to use a simpler place card, consider these fun party favor ideas. They will also add another dimension to your table setting. Order 1 party favor for each couple, 1 for each single. Use a liquid gold pen or colored Sharpie marker to write your the guest of honor's name and the date of the party or attach a personalized favor tags or place card tag.

Personalized Baby Tea Favors | Teapot Tea Caddy Party Favor
Heart Tea Infuser Party Favors | Mini Tea Tin Party Favors
Mini Teacup Tealight Holder | Mini Teapot Tea Infuser
Mini Teapot Favors | Personalized Tape Measure Favors (we love tape measures!!!)
These teacup sipper cups are absolutely perfect for a first or second birthday tea theme party!
Children's Tea Sets
Rosanna Tea For Me Too, Gift-boxed Children's Tea Set, Service for 4 | Children's Tea Set | It's a Tea Party Set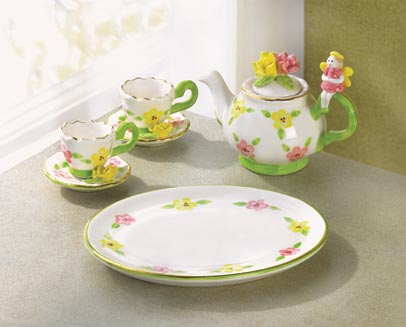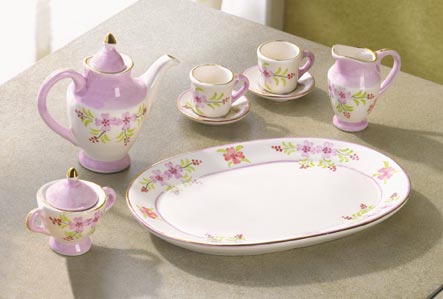 Fairy Mini Tea Set | Mini Floral Tea Set 
Alex Mini Tea Basket 19pc. Set | Mini Tea Set | Pretend & Play Tin Tea Set
Fun & Games for Tea Parties
Tea Party Game | Topsy Turvy Activity Placemats
What children's party would be complete without reading Miss Spider's Tea Party?
Home Decor
Wouldn't this rug be absolutely perfect for two little ones sitting on the floor and playing tea party?
Grown-up Tea Party Sets
Lenox Butterfly Meadow 7-Piece Tea Set, Service for 2 | Royal Albert Old Country 3-Piece Tea Set Roses | Vintage Green Rose Porcelain 11-Piece Tea Set
Tea For One Sets
Royal Albert New Country Roses Polka Rose Tea For One | Delicate Butterfly,Dragonfly And Flowers Porcelain Duo Teapot | You and Me Tea for One Teapot Set | More Tea For One Sets
Tea Party Food

Cup, Saucer & Teapot Chocolate Mold | Tea Party Cookie Cutter Set
3-tiered Porcelain Serving Trays
Tea Theme Party Books

Pink Princess Tea Parties | Afternoon Tea Parties | Tea Parties for Dads

Tea Party | Victoria The Essential Tea Companion: Favorite Menus for Tea Parties and Celebrations
Make the Night Last a Year
Don't let this memorable day fade away with the setting sun. The next day, when all is still fresh, log onto Shutterfly to create photo books, memory calendars, and even photo thank you notes or create a 5×7 photo card announcing the day, time, and location of your next celebration.
Photo Books | Calendars
 | Photo Gifts
Tea Time Binders
Tea Time Avery Binder | Little Birds   | Teabag in a teacup binder | Elegant Tea Binder
Party Hearty!