Imagine sharing a lovely afternoon sipping tea and eating crumpets  with a room full of friends and family. A tea party isa fun and charming party theme for all ages.
A tea party is a perfect theme for birthday (children, teen, and adult), sweet sixteen, quinceanera, and Bat Mitzvah celebrations, school fundraisers, sorority soirees, Mothers Day, and bridal and baby showers.  Right now, we have showcased products for both adult and children's parties but hope to create new packages specifically for children's tea parties and quirky Alice in Wonderland tea parties soon.
Invitations for Tea Parties
Choosing your invitation is the equivalent of the title of a paper … it sets the tone for the entire party, even a casual party!   Party Idea Pros' absolute favorite tea party invitation, even though it shows no teacup  is the Tea Garden invite offered by Tiny Prints however there are lots of great tea party theme invitations from which to choose.  Here are our favorites
Teapot With Animals Children's Birthday Party Invitations
tHe QUeeN's TeA PaRTy Announcement | Vintage Party Invitations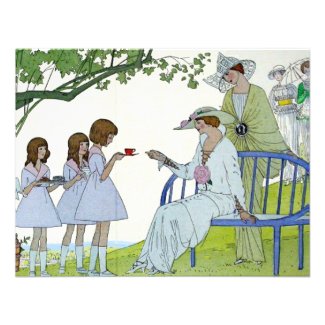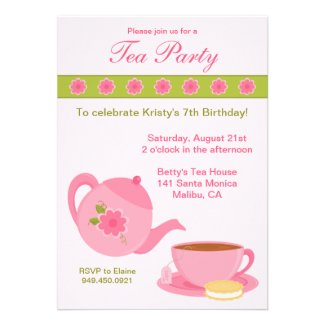 Vintage Tea Party | Birthday Party Invitation
Alice in Wonderland Invitations | Wonderland party invitation | Vintage Alice in Wonderland Birthday Invitations | Alice in Wonderland Invitations
Printable Invitations
Elegant Return Address
The custom embosser is all about sophistication. Now you can easily add some elegance to everyday stationery or as an elegant alternative to having your return addresses printed on your party invitation envelopes. They also make wonderful gifts. You will be surprised at how often you use your new embosser.
Paper Goods for Tea Parties
Tea Party Centerpieces
Although this teapot use is made of heavy cardboard, it will look darling on all but the most elegant of  tables!
Add a few balloons to make the centerpiece more substantial!
Balloons for Tea Parties
More Centerpiece Ideas
Fun Tea Theme Table Decor
…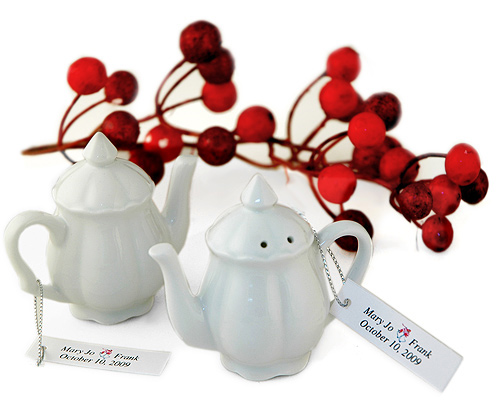 Porcelain Teapot Salt and Pepper Shaker
Teacup & Saucer Candles
Napkin Rings and Napkin Ties for Tea Parties
Party Idea Pros has found  a handful of  great napkin ring options, any of which will add that special touch to your table.  Prefer simplicity or just trying to cut costs? Place a single tea bag on top of each beautifully folded napkin.
Place Cards and Place Card Holders Holders for Tea Parties
Tea Party Favors
A tea party theme lends itself to so many favor options, Party Idea Proscould not choose just one best option, so here are a few choices we call the best of the best …  One more thought — Although the recommended place cards and napkin ties also serve as party favors, if you want to lavish gifts on your guests or prefer to use a simpler place card, consider these fun party favor ideas. They will also add another dimension to your table setting. Order 1 party favor for each couple, 1 for each single. Use a liquid gold pen or colored Sharpie marker to write your the guest of honor's name and the date of the party or attach a personalized favor tags or place card tag.

Personalized Baby Tea Favors | Teapot Tea Caddy Party Favor
Heart Tea Infuser Party Favors | Mini Tin Party Favors
Mini Teacup Tealight Holder | Mini Teapot Tea Infuser
Mini Teapot Favors | Personalized Tape Measure Favors (we love tape measures!!!)
The white ceramic frame is currently in stock and available in larger quantities. As the others are one-of-a-kind, they are likely to change.
These teacup sipper cups are absolutely perfect for a first or second birthday tea theme party!
Children's Tea Sets
Fun & Games for Tea Parties
Tea Party Game | Topsy Turvy Activity Placemats
What children's party would be complete without reading Miss Spider's Tea Party?
Party Hearty!