NEW! Make it a Yoga Night
Need an excuse to party hearty? Add a yoga, pilates, or meditation element to your ladies night out and feel virtuous. Keep all the festive decor recommended in Party Idea Pros classic Ladies Night Out or our new Good Things Come in Small Packages, Shoes Glorious Shoes, Take a Walk on the Wild Side, and Wonder Women Party theme packages – simply exchange your high heels and tight jeans for yoga sandals and organic yoga pants and save the cocktails (or better yet, mocktails) and bling for after a good workout.
More Girls Night Party Packages:
Good Things Come in Small Packages |  Hats On! | Jungle Safari Party | Let's Cocktail | Purse Lover Party | Shoe Lover Party | Take a Walk on the Wild Side | What's Cooking | Wonder Woman Party
Yoga Theme Party Invitations and Stamps
Invitations are much like the title of a paper –they set the tone for the entire party.
YOGA PARTY Birthday Exercise Stretching Invitation | Blonde Yoga Girl Stretch & Play Birthday Party | Tree Pose Yoga Party Invitation
More Yoga, Pilates, Spa, and Fitness Invitations
Pilates Queen original design! | Yoga Queen Designs! | Pink Lotus Flower Painting Invitation
….
…
Basic Yoga Theme Party Supplies
You could ask your guests bring their own yoga mats or surprise them with these great yoga kits. Plus, your rooms will look adorable if you set it up all ahead of time!…
We are so excited! We just found a wonderful new source for all things yoga! Now you can buy quality yoga gear at amazing prices from Pro Source Fitness!
The Perfect Yoga Outfit
No matter the locale, no matter the theme, a party is always a great excuse to buy that perfect outfit!
 Savasana T Shirt  | Downward Facing Dog Cartoon Tshirts 
Lotus Flower Namaste Yoga Leggings | Yoga Leggings | Seven Chakras Leggings
Yoga Theme Party Favors
Yoga Theme Party Goods and Decor
…
Ashtanga Yoga Poster- Small Laminated
A bit small for a wall poster but these could make great over sized place mats!
Reusable Decoration Wall Sticker Decal – Instructional Yoga Poses Stance | Aum Namah Shivaya Mandala Meditation Banner | Nouveau Lotus Mandala Meditation Banner | Vinyl Wall Decal Sticker Namaste Phrase
Create Your Own Party Kits
Not surprisingly, we cannot find any yoga themed party kits but it is easy to create your own. Just buy solid colored paper goods and add a yoga theme sticker. The plates and stickers come in a variety of colors, shapes and sizes so the possibilities are endless
KandCompany Yoga Sticker Medley | Yoga Chick Stickers | Peacock Feather and Flute – Hare Krishna | Upward Facing Dog – yoga pose 
These are three dimensional stickers — perfect on paper or plastic cups — not so sure how they would work on plates. If you try it, please let us know!
Yoga Theme Candles
Set a meditative mood with candles
Yoga Candles and Candle Holders
Flowers
Keep your flowers simple, elegant, inspired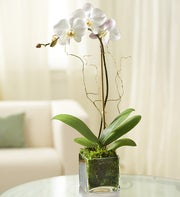 We give up! Just about every time we link directly to a beautiful floral arrangement, the product disappears. So here are our go to florists. Just search orchid –stunning new arrangements are featured daily.

1 800 Baskets | 1 800 Flowers | FTD.com | GiftTree | Teleflora
Another great option is flowering bonsai! Bonsai symbolize harmony, honor, patience, as well as happiness among friends and family.
Food for your Yoga Party
Think local, fresh, and balanced. Consider serving tapas or small appetizer sized portions. The key is to vary your presentation. Mix and match food with containers
Foods: Harvest Grain Salad | Beet Salad | Soba Noodle Salad (with meat or tofu) | Endamame Lo Mein | Tofu Wrap
Containers: Martini glass
 | Shot glass
 | Rectangular Appetizer Plate
 | Triangle Dessert Plates | 
Round Salad Plate
Yoga Theme Gifts
Yoga Poses Figurines | Tibetan Singing Bowl
Party Hearty!