I Came           I Saw          I Conquered
March 15th.
What is the Ides of March?
courtesy of Jennifer Vernon, for National Geographic News, March 12, 2004
Julius Caesar's bloody assassination on March 15, 44 B.C., forever marked March 15, or the Ides of March, as a day of infamy. It has fascinated scholars and writers ever since. For ancient Romans living before that event, however, an ides was merely one of several common calendar terms used to mark monthly lunar events. The ides simply marked the appearance of the full moon.
But the Ides of March assumed a whole new identity after the events of 44 B.C. The phrase came to represent a specific day of abrupt change that set off a ripple of repercussions throughout Roman society and beyond. Click here for the rest of the article
Today, thanks to the William Shakespeare's play Julius Caesar, the soothsayer's warning to Julius Caesar, "Beware the Ides of March," has forever imbued that date with a sense of foreboding.  But here at Party Idea Pros we say the ides of March is just another excuse to party, especially for those interested in ancient Roman history, Shakespeare, or anything toga.   Pick and chose from a wide range of ideas.  This theme can go as elegant or as bawdy as you desire.
Ides of March Party Invitations
Choosing your invitation is the equivalent of the title of a paper … it sets the tone for the entire party!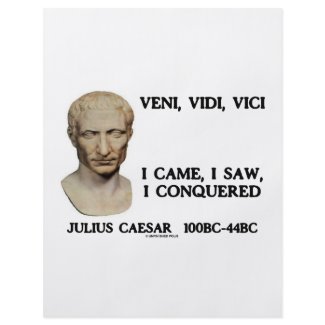 Veni, Vidi, Vici – I Came, I Saw, I Conquered 
Perfect for decorating place cards
Cluster of Grapes & Togas Toga Party Invitation | Elegant Toga Party Beautiful Classical Motif
TOGA PARTY | Greek Goddess & Peacock Toga Party Invitation | Greek Key Invitation | Black Laurel Invitation
Ides of March Party Decorations
Mediterranean Kit | Ancient Greece Kit
Banners and Backdrops

Toga Memories Banner in a variety of sizes
Balloons
Gold Balloons | White Balloons
Ides of March Party Paper Goods
Solid Gold Paper Plates, Cups, Utensils, and Table Cloths
Glittering Gold Party in a Box
Veni, Vidi, Vici – I Came, I Saw, I Conquered
Add a sticker to the center of your gold plates and cups…
Ides of March Costumes
Toga Party Costumes
We're not sure if costumes qualify as party decor or as entertainment, but in either case, for this theme we highly recommend making your Ides of March party a costume party!
The Classic Toga
Rather than a sheet, it is best to go to a fabric store and buy real fabric — solid white is traditional, but any color, any pattern will work if you just want to have fun with the whole toga concept and want to stand out from the crowd. Generally, fabric is less expensive than sheets and is a better shape for wrapping around your body. TogaBoy suggests buying 4-6 yards of fabric.
Beyond a sheet …
We've included both ancient Greek and Roman costumes — although not entirely authentic, by including both, you have more options.
Costume Gladiator Sandals
With gladiator sandals a popular choice in women's footwear, you may pefer to buy a pair you will wear again!
Steve Madden Women's Agathist Gladiator Sandal | Vince Camuto Women's Havkina Gladiator Sandal
Dockers Men's Solano Gladiator Sandal | Nunn Bush Men's Ritter Sandal
Don this fabulous head wear with your togas.
Food and Drink for your Ides of March Party
Signature Cocktails 
Bellinis are a Venetian concoction, made at the famous Harry's Bar to pay homage to Venetian painter, Giovanni Bellini. I've used apricot nectar but traditionally it's made with peach nectar. Nectar is thicker and more syrupy than a juice. Nectar can be made from peaches, apricots, guavas and black currants.
1 ounce apricot nectar (30 ml)
Prosecco, to taste
Pour apricot nectar into a champagne flute. Top with Prosecco.
Ingredients:
8

 

mint leaves, plus sprig for serving

½

 

oz. simple syrup

1

 

oz. Averna Amaro Siciliano

1

 

oz. Italian sweet vermouth (such as Carpano Antica Formula)

¾

 

oz. fresh lemon juice
Instructions:
Muddle mint leaves and simple syrup in a cocktail shaker. Add amaro, vermouth, and lemon juice; fill shaker with ice. Shake until outside of shaker is frosty, about 30 seconds. Strain into a rocks glass filled with ice and garnish with mint sprig and lemon wedge.
Delectable Delights
Food is where the Italian influence can really shine. For a festive atmosphere, keep the food delicious, simple and bite-sized.   The Food Network suggests laying out easy-to-prepare foods such as bowls of olives and plates of crudités. Arrange crusty Italian bread, tapenade (olive spread), pesto and quality Italian salami on a large wooden cutting board and let your guests help themselves. Another option is a pizza station where your guests can create their own personalized pizzas
Robert Love's Roman Holiday: Bucatini, Fava Beans, Guanciale, Pecorino Romano | Olive del Diavolo | Olive Primavera: Fresh Three-Olive Blend Tossed with Citrus
Prosciutto Wrapped Melon | Proscuitto Wrapped Asparagus | Pizza Margherita | Portobello Pizzas | Grilled Antipastoin Endive Boats | Lamb and Radicchio Barquettes | Bruschetta Di Prosciutto | Calamari with Citrus Aioli | More Menu Ideas from Food Network
Roman Cookery: Ancient Recipes for Modern Kitchens
Ides of March Party Entertainment Ideas
Games can make for a killer evening

How to Host a Murder – Roman Ruins
Having mentioned your name in his Roman epic, the renowned poet, Flabbius Corpus, invites you to a banquet for the premier recitation of his historical work. When you arrive, you discover there's been a murder in the garden and a priceless statue is missing. As one of the eight Roman characters, you and your friends will be scheming and srambling til the end.
Watch a Movie (or just have it playing in the background)

Rent a season of Xena: Warrior Princess or stick with the classic warrior movies, Gladiator or Braveheart
Xena: Warrior Princess
 | 
Gladiator
| 
Braveheart
 | 
Xena: Warrior Princess – Soundtrack
 | 
Gladiator – Soundtrack
 | 
Braveheart: Original Motion Picture Soundtrack
 |
.
Make your own iMix
Party Hearty!