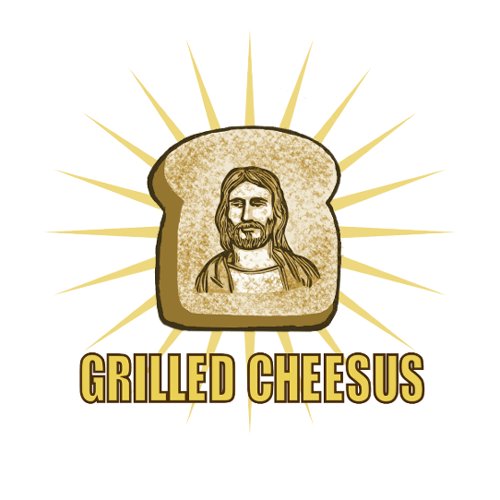 What is a Grilled Cheesus?
The term "grilled cheesus" was coined on Season 2, Episode 3 of  Glee. Basically, Finn, the football playing, male lead glee club member, sees the face of Jesus in the score marks  made on a sandwich using his George Foreman Grill
— hence 'Grilled Cheesus.'
Every once in a while you may want to 

Make your own …
OMG! There is an actual Grilled Cheesus maker now!
… 
Grilled Cheese: 50 Recipes to Make You Melt | George Foreman Grill
 | Grilled Cheesus T=shirts, Shirts, and Stickers
What Would Grilled Cheesus Do? | Grilled Cheesus  Shirt | Grilled Cheesus
The Designs …
These grilled cheesus designs can be put on t-shirts, sweatshirts, hoodies,  aprons, stickers, magnets, note cards, postcards, tote bags, key chains, mouse pads, mugs, doggy t-shirts, hats, ties, greeting cards, and buttons.
Grilled Cheesus | Rally To Restore Sanity Grilled Cheesus
The Grilled Cheesus | Dark Grilled Cheesus Lactose Intolerant
Plan a Grilled Cheesus Party!
And yes, you can plan an entire party around this theme.

Send:  Grilled Cheesus invitations (use a postcard, note card or add a grilled cheesus sticker to an invitation)

Wear:  Grilled Cheesus t-shirts,r apron, hat, tie or all of the above!

Party Favors:  Grilled Cheesus buttons, stickers, tote bags, mugs, ties, hats, key chains, magnets, mouse pads

Napkin Rings:  Grilled Cheesus Key Chains
Entertainment: Watch the Grilled Cheesus Episode of Glee in HD


Food:  Grilled Cheesus, of course (since you may have difficulty attaining the same score marks on your grilled cheese sandwich, consider pre-cutting the sandwiches using cross shaped cookie cutters.)
New!
More  Holy Visions
Look! It's Jesus!: Amazing Holy Visions in Everyday Life
Every day, Jesus, Buddha, the Virgin Mary, and Mother Teresa appear to people in the most unlikely of places. From grilled cheese sandwiches to beehives to frying pans, these 100% authentic visions are enlightening and always amazing. Featuring an eye-catching lenticular cover as well as testimony from the real people who discovered these miraculous images, Look! It's Jesus! reminds us that a miracle can happen at any moment.
All over the world people cherish different beliefs. Regardless if these beliefs are rooted in religion or popular culture, a true believer cannot be swayed. So, when Mother Teresa surfaces on a cinnamon bun, the manifestation turns into an event that attracts global attention. Madonna of the Toast documents what happens when religious and secular icons appear on such things as pancakes, potato chips and cows. From highly publicized examples of these phenomena (Virgin Mary Grilled Cheese) to previously unpublicized instances of these visitations (Jar Jar Binks on a shed door, Jesus on a mandolin), all of the objects featured in the book exemplify the power of visual communication. As Buzz Poole writes, "Whether on the level of sacrosanct devotion or pop culture kitsch, these forms become as relevant as the world's finest art because they compel people to react; the objects in this book, emblazoned with faces and symbols recognized the world over, have been appraised at stunningly high sums, been toured around the globe and have inspired people to travel, pray and steal." Every example consists of colorful images accompanied by intimate, remarkable stories that relay the personal and cultural ramifications of these objects, every single one of them encapsulate very real aspects of popular culture.
Party Hearty!