Chalkboard Chic
Chalkboard Invitations, Place Cards, Table Numbers, Party & Home Decor, and  More
It doesn't take more than a minute or two perusing Pinterest to know that vintage is in.  Brides have especially been loving our vintage tin tile  outdoor wedding photography backdrops and magnetic seating charts & escort card boards.  Today we want to make sure every one is aware of the newest trend in vintage — chalkboard everything.  At first we thought it it was our personal obsession after discovering a ceiling tile chalkboard  but after my daughter called and said she painted a chalkboard wall and created 2 chalkboard side tables in her summer apartment rental, I knew I was on to something.  Izzy is always a beat or two ahead of burgeoning trends.  And then today, I opened my email and there waiting for me was a note from Tiny Prints with the subject  "Chalk it up to Birthdays"" featuring their latest fashion forward invitations.
So today we have chosen to  showcase this chic new chalkboard trend in invitations and suggest coordinating your place cards / escort cards, table numbers, party & home decor.  Once we began our quest, we were amazed at how much chalkboard "stuff" is readily available online. Plus, as Izzy could tell you, you can easily transform just about anything into a chalkboard decor yourself using a can of chalkboard paint or chalkboard peel & stick papers.
Just a note of caution – if you DIY, make sure you check the color on the container.  Turns out chalkboard paint comes in both black and green.  I wanted black but mistakenly bought green paint.  I ended up trying the green, not liking it, and repainting my ceiling tile chalkboards with the black  chalkboard spray paint.
[toc]
Chalkboard Invitations and Stamps
Choosing your invitation is the equivalent of the title of a paper … it sets the tone for the entire party!
Modern Chalkboard Wedding Invitations | Chalkboard Baby Shower Invitations
Charming Chalkboard Save the Date Cards | Chalkboard Save the Date Cards
Chalkboard Wedding Invitations | Dusty Chalkboard Wedding Invitations
Eggs in a Classroom for Multiple Births – Chalkboard Green | Chalkboard Writing Graduation Invitation | Chalkboard Birthday Announcements | Chalkboard T-Rex Dinosaur Birthday Invitations
Neon Floral Chalkboard Doodle Wedding Invitation | Chalkboard Train Boys Birthday Party Invitations | Red Plaid and Grunge Chalkboard Party Invitation | Class of 2012 Chalkboard Graduation Invitation
Party invitations, Bright Chalkboard | Graduation invitations, Cool Chalkboard | Studio basics: engagement party invitations, Chalkboard Chic | Save the date postcards, Chalkboard Swatch
Don't forget the stamp!
Blackboard Greeting – Customizable Stamp | Wedding Postage Stamps | Chalkboard Love | Save The Date Stamp | Hollywood Youth Comedy 1936 WPA Postage Stamps
 Chalkboard Party Favors, Place Cards and Table Numbers 
 12 Mini Square Chalkboards 2″X2″-For Wedding Place Cards Party Favors, & Crafts
Download Wedding Chicks chalkboard inspired cards and write your guests names and table numbers on their free printables.  Use chalk pencils in your fanciest cursive for the cutest place cards ever.  You can download Wedding Chicks chalkboard place cards here. Simply cut and fold and you are ready to go.  Be sure to check out more of their free printables. All completely free and some you are even able to customize. Download chalkboard table number and place card template here.
 Chalkboard Place Cards & Table Numbers
 | Chalkboard Table Picks | Weathered Metal Chalkboards with Scalloped Cut Edging | Chalkboard Frosted-Glass Tea Light Holders / Place Cards / Party Favors | Chalkboard Wooden Eggs Place Cards 
DIY Chalkboard Wooden Eggs: Package of 30 Unpainted Wooden Eggs- 2″
Chalkboard Decals and Wall Stickers
Disney Mickey Mouse Chalkboard Peel and Stick Wall Decals |Menu Chalkboard French by Old River Road | Cuisine French Country Kitchen Blackboard Chalkboard | Chalkboard Personalized Banner  | Peel and Stick Horse Chalkboard | Peel & Stick Chalkboards
Chalkboard Gifts & Home Entertaining Accessories
DIY: Decorative Tin Ceiling Tiles + Chalkboard Paint
Use decorative metal tiles and chalkboard paint to create your own unique and chic chalkboard table numbers, place cards, party favors, and home decor!
A ceiling tile chalkboard is super simple to make yourself — all you need to do is choose a tile with a large flat center and paint the center with chalkboard paint
.  Although the picture shows the tile framed in black, personally, I think the frame detracts from the tile.  I would just hang the tile directly on the wall with  removable Picture-Hanging Strips or nail them into the wall with cone head nails.
All tin tiles are 24″ x 24″.  Therefor you can make 4 – 12″ x 12″ chalkboard table numbers and/ or signs with 12 – 6″ x 6″ chalkboard place cards / escort cards.  Add a magnet to the back of the place cards to display them on a tin magnet board and create a chalkboard magnet party favor!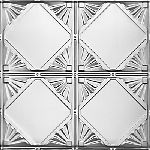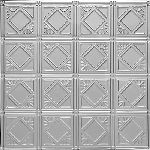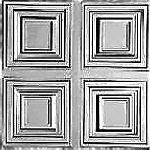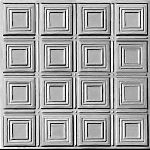 1205 Tin Ceiling Tile – CLASSIC CHECKERD DECO | 0603 Tin Ceiling Tile – Classic – DIAMONDBACK SQUARES | 1211 Tin Ceiling Tile – Classic Lincoln Square | 0601 Tin Ceiling Tile – Classic – TIMES SQUARES
Here's how mine turned out (when the rest of the kitchen is finished I will add a photo of the entire nook).  I use them both as chalkboards and as magnet boards.
Chalkboard "Stuff" for Crafting and DIY Projects
 Chalkboard Chalk | Chalkboard Paint | Chalkboard Markers
|Chalk Pencils
Party Hearty!